Our Staff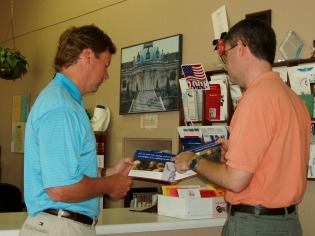 Although we're proud of our products, services, and technology, nothing matches the pride we have in the Computer Graphics staff. You see, we learned long ago that we're really in the business of building relationships. For that reason, we put a premium on hiring only the most qualified individuals to serve on our team.
Every person on our staff is committed to providing excellent customer service and producing high-quality products and services. As you work with us in the future, we're confident that you'll find this to be true.
Born in Connecticut but raised in Alabama, Russ grew up in Leeds and now lives in Hoover with his wife Katherine, daughter Emma and son Evan. His career started with Computer Graphics in 1994. Russ oversees sales and marketing and is responsible for ensuring all customers new and old, big and small are pleased and can recommend Computer Graphics for design & printing. Russ is a former Assistant Governor of Rotary International District 6860. He enjoys Alabama football and percussion/drums.





---